Comox Valley Water Treatment Project
Construction of the Comox Valley Water Treatment Project kicked off in fall 2019 and is well underway. The new system, scheduled for completion in 2021, will comply with the provincial surface water treatment objectives guideline and deliver three main benefits:
Eliminate the need for turbidity-related boil water notices
Remove the risk of viruses and bacteria in our drinking water
Provide a secure supply of reliable, high quality drinking water for decades to come
Learn more about why we need a water treatment plant.
What's Happening Now
Construction is moving ahead quickly at the Raw Water Pump Station site with excavation for the new water intake nearing completion and formwork for the electrical building underway now.
At the Water Treatment Plant site, crews are making progress on formwork for the treatment plant. Some recent highlights include: pouring of flocculation tanks, pipe encasement and excavation of the clearwell.  
Tree clearing is also underway along the penstock corridor, to prepare for installation of the new water pipeline that will move treated water from the new treatment plant to the existing transmission system. 
AECON have modified site health and safety measures on all work sites to remain compliant with Provincial direction and new WorkSafeBC requirements in the effort to minimise the spread of COVID-19 and keep our workers and community safe.
Work planned March through April 2020 includes:
Completing excavation for new water intake (next to the Courtenay Fish and Game boat launch), and preparing for the steel sleeve to be tunnelled into Comox Lake 
Starting foundations for the pump station structure and adjacent electrical building
Foundation work for water treatment plant and supporting structures like the equalization tank, clearwell and starting wall installation
Continuing clearing work along the penstock corridor and delivery of steel pipe for installation
Start of installation of pipe for the Raw Water Transmission Main between Comox Lake and the Water Treatment Plant.
News Highlights
Partnering with K'ómoks First Nation
The K'ómoks First Nation (KFN) and the CVRD signed a Mutual Benefit Agreement on September 28, 2018 confirming cooperation and collaboration in the management of water resources in the region. In the signing of this agreement, KFN has stated its support of the Comox Valley Water Treatment Project and the CVRD's water license application. 
The CVRD celebrated the start of construction and officially broke ground with the KFN on October 30, 2019 at Comox Lake. From left to right: CVRD director Daniel Arbour, K'ómoks First Nation Councillors Katherine Frank and Richard Hardy, CVRD directors Wendy Morin and Doug Hillian, CVRD Water Committee Chair David Frisch, K'ómoks First Nation Chief Nicole Rempel, CVRD Chair Bob Wells and CVRD director Edwin Grieve.
The Comox Valley Water Treatment Project is estimated to cost $126 million.
While the project will receive federal and provincial grant funding ($58.5 million) under the Canada Infrastructure Program (ICIP) – Environmental Quality (EQ), there will still be costs for which the CVRD will be responsible.
The Comox Valley Water System will contribute reserves of $38.5 million and the CVRD plans to borrow up to $29 million over a maximum of 25 years to finance its share of the construction costs.
The cost of borrowing this money will mean an increase in bulk water rates for users of the Comox Valley Water System. It is estimated the new system will cost roughly $86 per household/year.

Click here for more information about how we will fund our Water Treatment Project.
The design-build contract was awarded to AECON Water Infrastructure Inc. in July 2019, signaling the start of the construction phase of this project. Some construction related activities (like land clearing) will begin in 2019. Infrastructure construction will begin in 2020, to be complete Spring 2021.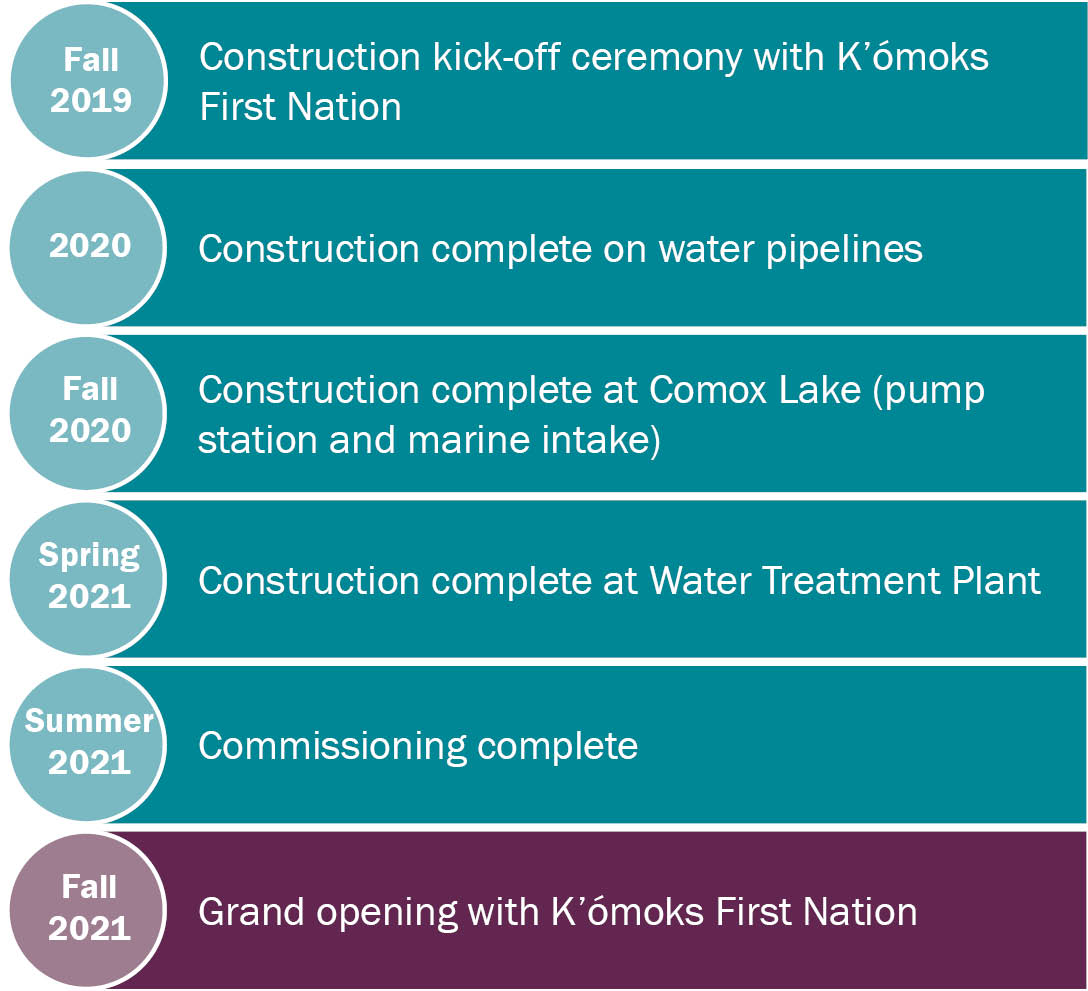 For more information about the Comox Valley Water Treatment Project please see the following documents: