Features
Beach,
Off leash trails,
Picnic area,
Rare plants,
Scenic views,
Swimming,
Wildlife viewing
Amenities
Benches,
Dog bag dispenser,
Garbage bins,
Interpretive Signage,
Parking lot,
Picnic tables,
Porta potties,
Wheelchair facilities
History
Goose Spit's Indigenous name is Pelxqikw, which means "round on point."  Both sides of the spit were used by local First Nations to collect clams and cockles in spring and to fish for salmon in winter. The park is Crown land owned by the province. Since 1971 the province has granted the Comox Valley Regional District a licence to manage the land as a park.
Background
Goose Spit Park is a unique landform, a flexible sand spit fed by the Willemar Bluffs that, together with Gartley Point, creates the Comox Harbour. Goose Spit Park offers excellent views to the south, east and west. On the inside is a sheltered lagoon that provides food and habitat for many migratory and resident waterfowl. Brant geese use the park as a migratory stopover from March to May every year. During those times, leashing of pets is mandatory in the park. The park lies within the provincially rare coastal sand ecosystem and is home to a number of provincially blue and red listed plants and animals.
A log wall in the high tide area helps prevent the road from being washed out during winter storms.  It also helps to trap sand and encourage vegetation to establish. Goose spit is a popular spot for kite-boarding in the fall and winter seasons. In the summer many people enjoy paddling and swimming on the beaches.
Location
10 Hawkins Road, east of Comox town boundary
Lazo North (Electoral Area B)
Goose Spit Park Walking Routes
Stair count from Goose Spit to Mulholland Drive via Nob Hill
Park Etiquette
Leashing of pets is required between March 1 and May 20, which gives migrating Brant geese a chance to rest and eat within the park.
Do not remove rocks or sand.
There are fire places at Joe Walker Park and Royston Seaside Park. Fires and cooking activities are permitted year-round outside of fire bans. Joe Walker Park also has two beach fire rings: one at the picnic area and one at the north end of the park. Remember: bring firewood!
Beach Fires
Fires are permitted from May 1 to September 4 in the ten rings located at the mid and far ends of the park. There is a limited amount of firewood on site, however visitors are encouraged to bring firewood, as burning of driftwood is dangerous and not permitted. It is unlawful to have a fire outside a fire ring.
Visitors may also bring their own barbeques, hibachis, and portable propane fire rings to CVRD parks.
When having a fire, burn only clean, dry wood to keep smoke and pollutants to a minimum. Keep a bucket of water at the fire. If no else wants your fire when you are ready to leave, ensure the fire is put out completely by dousing it with water. Do NOT put sand on the fire!
Accessibility
Two portals to the top of the dunes overlooking the water are wheelchair accessible
Mats located close to HMCS Quadra make the last park portal accessible May through September
Image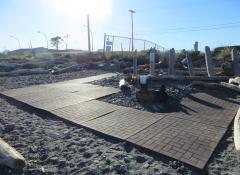 Management Plan
The most recent park  management plan for Goose Spit was completed in 2009 .
 Goose Spit Coastal Recreation Park - Proposed Enhancements Project Report